Telecom giant BT Group (GB:BT.A) and beverage manufacturer Diageo (GB:DGE) will release their earnings in the coming days.  
As an investor, it is equally important to keep track of your investments. After investing in a stock, there are three major questions: what's happening in the company, how is it performing, and what is the outlook? And what's better than the earnings report to answer these questions?
In this situation, the TipRanks Earnings Calendar is a perfect way to check the earnings dates of the companies in any particular market. This tool lists date-wise earnings schedules of companies, which can be filtered based on sectors, analyst ratings, market cap, etc.
Let's have a look at what analysts are saying about these companies.
BT Group Plc
The BT Group is a UK-based telecommunications company that operates in fixed-line, broadband, and mobile services.
BT Group will report its Q3 earnings for the fiscal year 2023 on February 2, 2023. The stock has started the year on a positive note and has almost gained 15% since the beginning of January 2023. Overall, the stock has been trading down by 27% in the last year.
The downturn was mainly due to the company's higher costs, which impacted its earnings in 2022. The company's free cash flow was also hit because of heavy investments in the networks. Since then, the company has raised its wholesale prices for the internet and has also increased the prices for broadband customers based on inflation.
The analysts are bullish on the Q3 earnings, as they look forward to seeing how the price hike has improved the company's margins. The analysts expect earnings of 0.05p per share in Q3, which is the same as what the company posted in Q3 of 2022. Even though top-line growth will decline, a 3% growth in earnings (EBITDA) is expected.
Recently, major investment banks have reiterated their Buy ratings on the stock ahead of earnings. Maurice Patrick from Barclays has one of the highest target prices on the stock, which has an upside of 75.5%. Citigroup analyst Georgios Ierodiaconou has upgraded his rating from Hold to Buy on the stock. Citigroup commented that "pricing momentum could offset free cash flow headwinds."
BT Group Share Price Forecast
BT Group's average share price forecast is 185.71p, which has an upside of 41.7%.
Overall, the stock has a total of seven ratings on TipRanks with a consensus of Moderate Buy.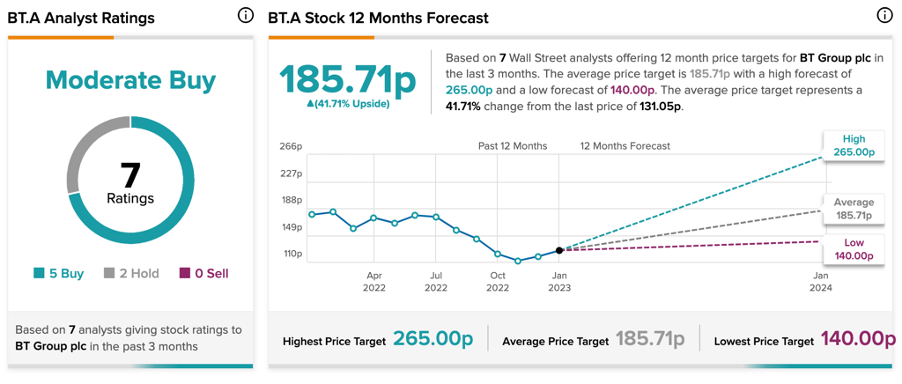 Diageo Plc
Diageo…
Click Here to Read the Full Original Article at TipRanks Financial Blog…