Spanish banks Banco de Sabadell (ES:SAB) and Unicaja Banco SA (ES:UNI) will release their annual results for 2022 over the next few days. The analysts remain confident about another positive quarter from the Spanish banks. The rising interest rates help the banks earn more net interest income (NII). As the Spanish banks have a higher volume of variable-rate loans in their portfolio, they will post higher NII as compared to their European counterparts.
Here, we have used the TipRanks Earnings Calendar for Spain to find out about the forthcoming earnings of these banks. With this tool, investors can have systematic and updated information in their hands regarding the companies that are about to announce results.
Let's have a look at them in detail.
Banco de Sabadell, S.A.
Banco de Sabadell is among the top five banks in Spain. The bank offers personal and business banking services.
Banco Sabadell will report its annual results for 2022 on January 26, 2023. The company's performance in the previous quarters of 2022 has been solid, which is clearly reflected in its share price as well. In the last year, the stock price has gained 62%.
The third quarter results of the bank were termed as one of the best after 2015. The analysts expect this trend to continue for the bank, with a 47.2% jump in net income at €784.5 million in 2022.
The analysts also see Banco Sabadell as the biggest beneficiary of higher interest rates as compared to other Spanish banks. The bank also raised its net interest income guidance for the full year, expecting more than 10% growth. The analysts, however, forecast NII growth of 8.2% in 2022.
For the fourth quarter, the consensus EPS forecast on TipRanks is €0.02, which is lower than the previous year's EPS of €0.03.
Banco de Sabadell Share Price Forecast
In terms of share price growth, analysts have mixed ratings on the stock. Morgan Stanley and J.P. Morgan have Buy ratings and expect an upside in the share price. Citigroup, on the other hand, has a Sell rating with a downside of around 8%.
The SAB average target price is €1.03, which is 4.36% higher than the current trading price. The stock has a Moderate Buy rating on TipRanks.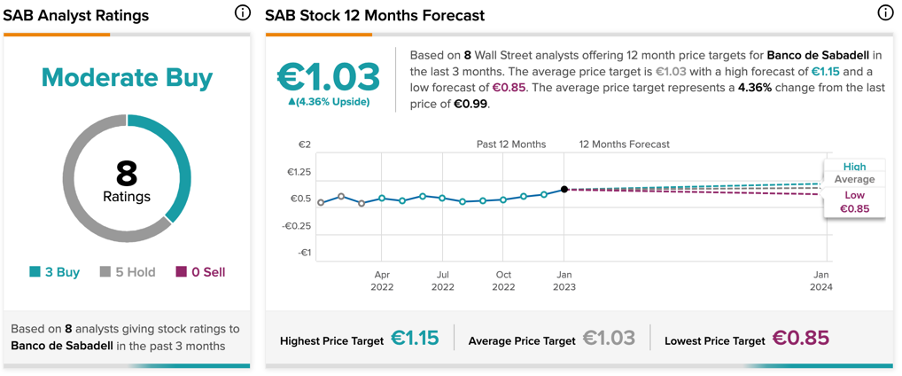 Unicaja Banco SA
Unicaja Banco is the fifth-largest bank in Spain and provides banking services to around four million customers.
Unicaja will report its full-year results for 2022 on January 31, 2023. On TipRanks, the consensus EPS forecast…
Click Here to Read the Full Original Article at TipRanks Financial Blog…