German companies Allianz (DE:ALV) and Daimler Truck Holding (DE:DTG) have been trending on the TipRanks Trending Stocks tool. Both the stocks have been rated as Buy by analysts and also have a forecasted upside potential of more than 20% in their share prices.  
The Trending Stocks tool lets users pick stocks within a particular market that have been recently rated by analysts. This way, they get the advantage of screened stocks backed by experts.
Let's have a look at some details.
Allianz SE
Allianz provides a broad range of insurance and asset management services in Germany and around 70 countries worldwide.
Over a long term of three years, the company's stock has been popular with the public and has generated a return of more than 80%.
The company's revenue increased by 2.8% to €152.7 billion, as reported in its annual results for 2022. In addition, the operating profit was up by 5.7%, driven by improved performance in its insurance segments.
Yesterday, analyst Michael Huttner from Berenberg Bank reiterated his Buy rating on the stock. He has the highest price target of €309.0, which indicates an upside of 52.7%. Huttner feels that the company's target of €14.2 billion in operating profit for 2023 is on the lower side and could be further increased. He also commented, "The insurer was more confident than it had been in years."
What is the Forecast for Allianz?
According to TipRanks, ALV stock has a Moderate Buy rating with seven Buy recommendations.
The average target price is €251.98, which represents a 24.7% change from the current price level.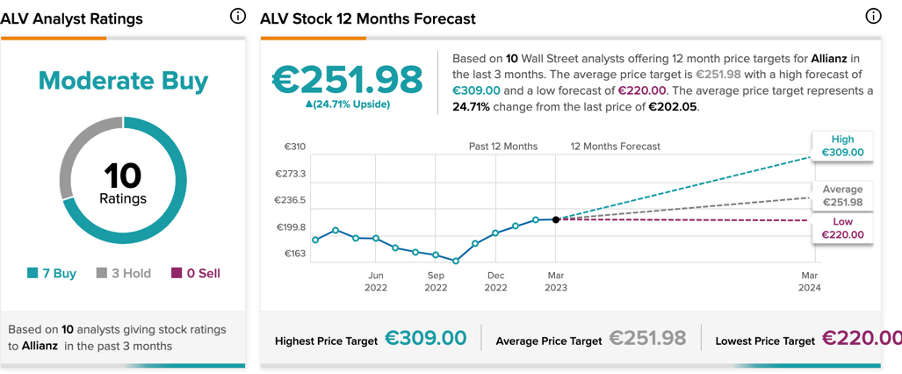 Daimler Truck Holding AG 
Daimler is a commercial vehicle manufacturer, split off from the luxury car maker Mercedes-Benz Group (DE:MBG).
In the last year, Daimler's stock has gained 20%, riding high on higher demand for its trucks and improved pricing.
Last week, the company reported its annual earnings for 2022, meeting its targets and also predicting higher revenues for 2023. The earnings increased by 55% to €3.9 billion in 2022, as compared to the previous year.
Lately, many analysts have reiterated their Buy rating on the stock. Among these, RBC Capital analyst Nicholas Housden has the highest price target on the stock at €53.0. This implies an upside of 49% from the current price level. Housden mentioned the stock as "attractive" and feels that the company's annual sales target for 2023 exceeds analysts'…
Click Here to Read the Full Original Article at TipRanks Financial Blog…